Northern Liberties is…
Justin Duerr – Vocals and Percussion
Marc Duerr – Drumset
Kevin Riley – Bass
also visit our other websites…..
www.justinduerr.com – Justin's website of art and writing.
www.kevinrileytattoos.com – Kevin's website of art and work.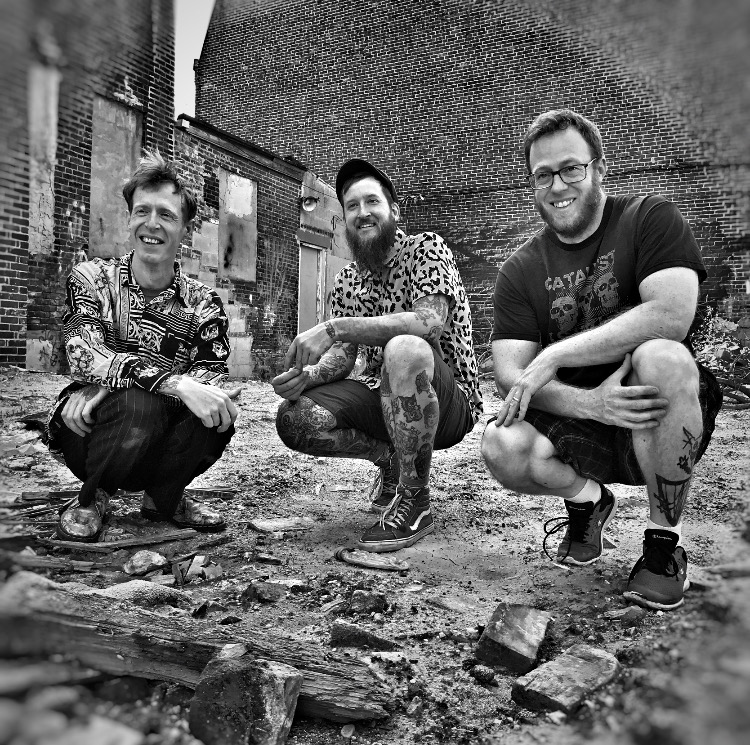 BIO
Northern Liberties are a three piece band consisting of drums, percussion, bass, and voices. Northern Liberties formed deep underground in the year 2000 as an outgrowth the West Philadelphia basement band scene. Brothers Justin and Marc Duerr, on percussion/vocals and drums, respectively, joined long-time friend Kevin with the idea of forming a band. The unusual instrumentation was a result of the three deciding to work with what and whom they were most comfortable with rather than bringing in other musicians – thus a new and idiosyncratic sound was forged, more out of practicality than any desire to be deliberately offbeat. Northern Liberties receive their music from an unnameable/indescribable dimension, which, while being impossible to accurately describe using any language including music, is most clearly shown in rough outline by the occult practice of musical realization.
Northern Liberties have been called "the sound of hope and inspiration […] made me feel something I wasn't ever planning to feel again" (Andrew Earles, Still Single Blog) "a stage presence that is unparalleled" (WUVT FM blog) "As strong, as menacing, and as idiosyncratic as ever" (Wonkavision), "For fans of underground social change music" (Hussieskunk.com), "Definitely heavy, thoroughly metal" (Punk Planet), "Raw, artistic expression in the vein of No Means No or Shellac" (Lowcut zine), "One of the more intriguing bands I've heard in a while" (Aidabet.com) "Somewhere between the dissonant riff-heavy freakouts of Lightning Bolt, sullen Cure/Joy Division gloom, melodic hardcore marches, and spacey, psychedelic angular avant-punk that touches on USAISAMONSTER, folk, and cosmic effects tripouts, bound together with bizarre feverdream lyrics and really cool zoned out vocals" (Crucialblast.net), "A bit Joy Division, with part Fugazi and an added touch of heaviness" (Slug And Lettuce), and "Something obtuse and beautiful" by the Philadelphia City Paper. The Philadelphia Weekly has observed that "Northern Liberties take their percussive, provocative noise-punk to the lunatic fringe", and it has been written on the WKDU blog that "Each encounter with this band (and once again the live shows especially) is like a baptism in fire, blood, & electricity, and every time I reemerge I'm still convinced that the world is a dark & scary place, but I also have a renewed hope that there still is something resembling magic in this world"…
Since forming in 2000, Northern Liberties have slowly and steadily moved in a non-linear direction, exploring and experiencing their collective music and sharing it with others if and when possible. While having no clear 'game plan' other than to participate in the phenomenon of music, Northern Liberties have successfully completed three tours of the USA, as well as recording eight full length albums and three 7 inches, one a split with Boston's Bugs And Rats, and another split with Philly's Lesser Known Neutrinos.
In 2023 photos and a short interview related to the recording of the band's 2007 album Ghost Mind Electricity were included in The Inner Ear of Don Zientara, a retrospective book compiled by Antonia Tricarico consisting of interviews, photos and historic documents related to Don Zientara's Inner Ear recording studio in Arlington, VA. Zientara's studio was the birthplace of innumerable iconic records from groups such as Bad Brains, Bikini Kill and Fugazi. Northern Liberties have shared shows with Mike Watt & The Secondmen, Lungfish, The Slits, Ruin, Monotonix, The Skull Defekts, The Notekillers, Dysrhythmia, Stinking Lizaveta, The Low Budgets, Bunnydrums, Shellshag, Pre and countless other bands in their twenty three year sojourn on the planet Earth.
At the time of this writing (July, 2023) Northern Liberties are emerging from a health-related period of relative dormancy to promote their eighth full-length record, Self-Dissolving Abandoned Universe, which was recorded in Chicago over the course of a week in June 2022 by Steve Albini (Nirvana, PJ Harvey, Stinking Lizaveta et al). The record artwork as usual was done by Justin and the band believe the recording, taken in a single dose alongside the artwork, comes the closest of their seven previous records to capturing the lightning in a bottle of the live experience. A record release show is planned, with the hope of sporadic travelling performances in the future as circumstances allow. We hope you will join us.